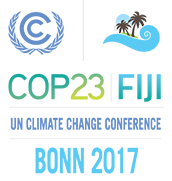 In November 2017, in almost 14 days, many of these countries and actors of environmental development and climate change will meet in Germany for the 23rd UN Climate Conference.
After the 22nd conference held in Marrakech, this time it is in Germany more precisely in Bonn. Fiji will host the next International Climate Conference, COP23, which will be held in November in Bonn, Germany, announced the Moroccan presidency of COP22 and the Fiji authorities. The reason is that the Pacific islands can not accommodate 15 to 20,000 people on one site and lodge them in the vicinity.
As a prelude to the 23rd United Nations Conference, a meeting to identify opportunities to integrate "climate change adaptation", Sustainable Development Goals (SDGs) and Disaster Risk Reduction was held at the United Nations climate change on 16 and 17 May in Bonn. Experts from the adaptation, development and risk reduction communities, policy makers, experts, executors and investors from different regions and sectors participated in the meeting.
In less than a month, in November, this ninth climate conference will be held.
What is really being said at this meeting?
Are decision-makers aware of the reality on the ground?
Has there been any improvement?
Are they all aware of climate change?
Are they developing solutions or approaches to solutions?
Who among these decision-makers is the greatest polluter of the environment?
What are they doing to reduce the consequences that already exist in African countries?
So many questions that African citizens ask themselves ...
We will come back.
Kimoa